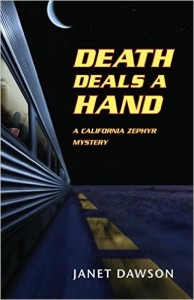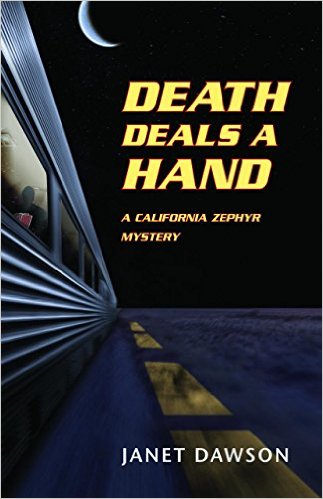 It's April 1953, and Zephyrette Jill McLeod is back on the rails, aboard the fabled train called the California Zephyr. Heading west from Chicago to the San Francisco Bay Area, Jill looks forward to reuniting with family members and the new man in her life. She's learned to expect and deal with just about anything on the train, from troublesome passengers to long-lost relatives to high-stakes poker games. But the stakes just got even higher: Death has a seat at the table.
Death Deals a Hand is published by Perseverance Press. You can read an excerpt and purchase it from Amazon, Barnes & Noble, IndieBound and Perseverance Press.
Gangsters? In Colorado? Find out more about the state's history of organized crime that inspired Death Deals a Hand.
"A storied train rushes toward a date with death… Jill is a charming and intelligent heroine."
—Kirkus Reviews
"Rail enthusiasts will welcome this light mystery full of information about train travel of an earlier era."
—Publishers Weekly
"Well worth a read… a top-rate accomplishment. My interest in the plot never wavered."
—BookLoons.com
"It's a very authentic trip, rides and reads smoothly… A lovely step back in time."
—Mysterious Women
"Another terrific read for any and all dedicated mystery buffs… Clearly establishing Janet Dawson's mastery of the genre, Death Deals a Hand is very highly recommended."
—Midwest Book Review
"There is a strong sense of riding the rails with Jill McLeod in Death Deals a Hand. The atmospheric setting is drawn perfectly… The murder mystery is solidly developed… Overall, a memorable step back in time to the not-so-distant past that many readers, even if they never traveled by train, will certainly enjoy revisiting."
—Mysterious Reviews
Read guest blogs by Janet: "Crime Rides the Rails" and "Writing the 20th Century Historical Novel"
Read an interview with Janet from Omnimystery News and an interview with David Alan Binder
Read serialized chapters on the first Jeri Howard novel, Kindred Crimes, on Wattpad.


Meet Janet:
Thursday, Feb. 16, 11 AM: 2017 AAUW Authors Luncheon, The Terraces of Los Gatos, Los Gatos, CA. Ticketed event; view PDF flyer for more information.
Subscribe to Janet's Newsletter: