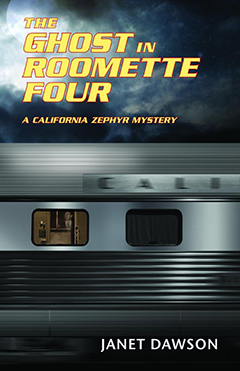 It's almost midnight on the sleek streamliner known as the California Zephyr, en route from Oakland to Chicago in 1953. Heading for her quarters, Zephyrette Jill McLeod walks through the Silver Gorge Pullman car, and sees something she can't explain. Is the shimmering light a ghost? Jill doubts the evidence of her own eyes, but soon learns that others have seen the phenomenon, too. Whatever—whoever—is haunting roomette four may be connected to an incident two months earlier, when Jill found the body of a young man there. The verdict on the death was natural causes. Now it looks like the unquiet spirit is pointing to murder.
"A nostalgic, wonderfully detailed look at an era when trains were still a major mode of transportation and life."
—Kirkus Reviews
"The details of train travel, especially on the Zephyr, which ran from Oakland to Chicago, are wonderfully researched. The descriptions of sleeper cars, observation domes, and even the lounge cars make one want to hop aboard a train… This might be the book to take on your next trip—train or otherwise."
—Reviewing the Evidence
The Ghost in Roomette Four is published by Perseverance Press. Read an excerpt and learn more about what's in store for Jill in Janet's blog posts at Bookbrowsing: "What's A Zephyrette?" and "All Aboard for Adventure." Step back into the 50s with Janet's post for Killer Crafts & Crafty Killers.
The book is available from Amazon, Barnes & Noble, Kobo, IndieBound and iTunes.
But Not Forgotten: A Novella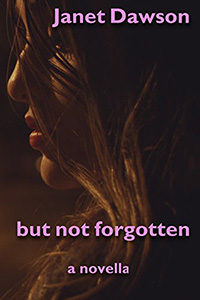 It's been 50 years since Fern Chatfield disappeared. What happened to her?
Did she run away? Or was she abducted?
Maggie Constable wants to know how the story ends.
A warm June evening. A high school graduation party. Fern ends her relationship with her boyfriend Hank. He doesn't take it well. In fact, he tries to hit her. But Fern's best friend Maggie intervenes.
After Hank stalks off into the darkness, Fern says she's going to walk home.
But she never gets there.
Fifty years have gone by. Maggie's a tough-minded veteran reporter, accustomed to pursuing the truth. This story has haunted her for years. She goes to her 50th high school reunion, determined to find out, once and for all, what happened to Fern.
Buy But Not Forgotten at Amazon.
The Jeri Howard Box Set
Buy it on Amazon for one low, low price!
This bundle includes the first nine books in the award-winning Jeri Howard murder mystery series, from Kindred Crimes to A Killing at the Track.
Pay only $9.99 for hours of great reading!
"Wherever you go with private eye Jeri Howard you find intrigue, insights, and a haunting look at Oakland's past clashing with its future. What I love about Janet Dawson's mysteries is the deep connection to old California and the battle to save it, wrapped inside an enthralling mystery that will stay with you for a long time."
—Lise McClendon, author of Blackbird Fly
"Jeri Howard, PI is back and she is as savvy, smart and bulldog-determined as ever. I loved following her through the streets and waterfronts of Oakland and cheering her on as she brings to heel some very contemporary criminals. Janet Dawson knows how to keep the pages turning while snapping together all the pieces in this intricate puzzle."
—Margaret Coel, author of Winter's Child
"The gentrification of Oakland, Calif., forms the backdrop of Dawson's solid 12th Jeri Howard mystery, in which the PI faces off against real estate developers while looking into the death of security guard Cal Brady, a former colleague of hers whose body is found floating in the Oakland Estuary… Private investigative work requires a lot of pavement pounding and coffee shop meetings, and as Jeri slogs through the slender chain of clues that Cal left behind, she's more and more convinced he was murdered. Dawson downplays danger to life and limb amid lengthy narrative passages devoted to the sad state of change in this beautiful city and its environs."
—Publishers Weekly
"Jeri Howard does not give up… the investigations she unravels are more than thrilling."
—Suspense Magazine
Water Signs is published by Perseverance Press. You can read an excerpt and purchase it from Amazon, Barnes & Noble and IndieBound.