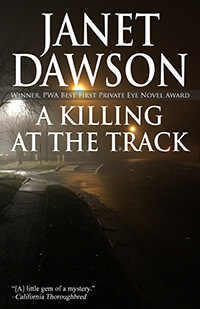 Investigator Jeri Howard is fascinated by the beautiful horses and the zealous spectators at stylish Edgewater Downs. But behind the scenes, where the owners, trainers, jockeys, and grooms mingle, life is not so pretty…
"This little gem of a mystery centers around murder, mayhem and race-fixing at a fictional racetrack named Edgewater Downs in Northern California… Dawson confesses to being a longtime racing fan and has really done her homework well… California racing fans should enjoy the local flavor of A Killing at the Track."
—California Thoroughbred
Excerpt:
The number four horse was a big gorgeous chestnut named Chameleon. He looked eager to run, his muscles rippling underneath his coat, which glinted coppery red in the fading afternoon sun.
The colt moved restlessly in his enclosure in the paddock at Edgewater Downs, where trainers and jockeys conferred before the call of "Riders up!" The horse's groom, a Hispanic man who could have been any age between thirty and fifty, checked his movement. The horse's trainer was a young woman with a mop of curly brown hair. She wore tan slacks, a green shirt, and a brown tweed jacket with leather patches at the elbows. Her only accessory was a sky blue scarf with a dull green border.
The colors of her scarf matched the silks her jockey wore, sky blue with narrow green stripes running down each sleeve. The jockey himself was at first glance impossibly small and slender in contrast with the big chestnut he was to ride in the upcoming race. Then he turned and I saw muscle and sinew in his hands and arms. His face was tanned, partly obscured by a shadow angling from one of the enclosure's upright supports.
I looked down at the program I held, running my finger down the list of entries for this race, the seventh. It was a contest for three-year-old colts, the distance a mile, and there were eight horses vying for a $58,000 purse. Chameleon's trainer was also the horse's owner. Her name was Molly Torrance.
The jockey in the sky blue silks was Deakin Kelley, and for some reason that name rang a bell. But I wasn't sure why. According to the check marks I'd made on my program, he'd ridden in three other races today, and had crossed the finish line first in one of them. Four out of seven races, some of them one right after another, might seem like a killing pace, but riding most of the races in the card meant the jockey was popular with trainers, one who could be relied on to try his best to finish in the money. Maybe Kelley was one of the up-and-comers. I must have encountered his name in a newspaper or magazine, although I didn't as a rule do more than glance at the sports page. Or perhaps there was another reason his name was familiar. At the moment, however, I couldn't recall why.
Post time was four p.m., which meant I had about ten minutes to place my bet. The riders were up on their mounts now, perched on their tiny saddles with their feet in the irons, their knees up. Out on the track they assumed the hunched-over riding posture and began warming up their mounts.
"I like the looks of that number four horse," I told the man standing next to me as we turned away from the fence surrounding the paddock and headed back through the grandstand. He was tall and lanky, with gray eyes over a hooked nose and tousled hair that was turning silver, despite the fact that he was only in his late forties.
"Do you?" David Vanitzky curved his lips into an enigmatic smile and his eyes narrowed as he spoke in his characteristic raspy voice. "He's a better choice than that claimer you bet on in the last race. You liked his looks, too." He chuckled. "And he came in dead last."
I shrugged. "So I bet on horses because I like the way they look. That's what Grandma Jerusha and I used to do when we went to Golden Gate Fields. She used to bet on horses with really weird names. Or jockeys she liked. She always said she never went wrong betting on Bill Hartack." David rolled his eyes heavenward. "Win some, lose some. I bet that horse because he was a long shot. Every now and then I like to bet long shots."
"There's a good reason that horse in the last race was a long shot." David shook his head at my lack of handicapping skills. "He should never have been entered in that race. Outclassed all the way. He's never won a single start. A less-than-illustrious career. Which you would have seen if you'd paid attention to the stats. They tell the story. It's all there in the numbers."
"You and your almighty numbers," I told him as we stepped onto the escalator. We rode up one level to the clubhouse, where he had a box outside, overlooking the finish line
David was a confirmed horseplayer, one who wouldn't dream of betting until he'd done his homework, as he called it. From what I could tell, that involved studying the performance charts in the Daily Racing Form before he even got to the track. When he'd unfolded it earlier this afternoon, I had noted with amusement that he'd scribbled cramped hieroglyphics in the margins, all in red, green and blue ink.
When David discovered I was the kind of infrequent bettor who wagered because I liked the way a horse looked, or because of the jockey, he shook his head and told me I might as well close my eyes and point. Then he'd launched into a brief lesson in handicapping.
The first object, he said, was to eliminate the horses that had limited or no chance to win. Then all you had to do was figure out which horse might have a chance to cross the finish line ahead of the rest of the pack. He talked about speed, distance, surface and track conditions. Those I understood. I was a little shaky, however, when it came to points of call, fractional times, the significance of workouts, and something called Beyer figs, which evidently did not grow on trees. These statistics, with their strange cryptic notes and columns of numbers, seemed as remote a language as Sanskrit.
"I defer to your expertise as a lifelong devotee of the sport of kings," I said now as we made our way back to David's box. "Since you've been hanging around racetracks since you were old enough to bet—"
"Even before that," he confessed. "I used to sneak into the old Arlington track outside of Chicago, and get one of the railbirds to place my bets for me."
"I knew there was something Damon Runyanesque about you." I sat down and leaned forward, looking at the horses on the track below. Chameleon was cantering off to my right, near the first turn, which was also called the clubhouse turn. Then I turned to David and peered at his notes. "Okay, what do your numbers tell you about Chameleon? All I can tell from your statistics is that he came in first once."
David nodded. "In four starts he's had a win, two seconds and finished out of the money in his last race, which was three weeks ago, on a muddy track. He's not a mudder, so that may have been a factor in his loss. I think he's about due for another win. But Kilobyte could give him some serious competition."
"Kilobyte?" I peered at the tote board, then back at my program. "That's not the favorite, is it?"
"No, the favorite is Wall To Wall, number seven. The dark bay with the yellow and white checked silks." David pointed and I spotted the bay colt, with his black mane and tail. Then David turned my attention to the tote board in the infield, with its lighted numbers. "Wall To Wall is going off at three-to-five. He's had two wins in his last three races. The odds on Kilobyte, the two horse, are a little longer, six-to-five. That's Kilobyte, the blood bay, in the red and black silks."
I glanced at the horse, his dark coat ruddier than the other bay, but not quite the russet hue of the chestnut. "He's had two wins and a second in five races," David continued. "So the odds are better on those two horses than they are on Chameleon."
"Odds," I repeated. That was more gobbledygook. I didn't understand how they figure odds either. I just knew that 30-to-one, the odds on the colt I'd bet in the last race, meant that the horse was a long shot.
The odds on Chameleon were nine-to-two. Even with my limited knowledge of playing the horses, I knew that was longer than the odds on either Wall To Wall or Kilobyte. David had informed me that a horseplayer never made any money betting on favorites, and that much I could see. As a rank amateur, I really did like to bet on long shots. I'd bet on plenty of them in my time, and some of them had paid off. Chameleon was in the middle of the wagering pack, according to the probable odds listed in the program.
"Well," I told him," I'm going to bet on Chameleon, not because of the charts or the odds or because you think he's due for another win. I'm going to bet on him because I like the way he looks."
David laughed. "Jeri, you'd better stick to the two-dollar window. Of course, they don't have two-dollar windows anymore." He shook his head. "That's another thing about horseracing that's changed."
"Believe me, two bucks is my limit." I pulled out my wallet and liberated a couple of George Washingtons. "When it comes to poker, I'm strictly a nickel-dime-quarter gal. And when I'm at the race track, I quit after I've lost my twenty bucks."
David grinned. "That's the wrong approach."
"Works for me. I'm self-employed, remember. Don't have a lot of cash to throw around on horses or cards. Unlike some people. Besides, I picked a winner in the second race."
"Dumb luck," he said, heckling me. His smile grew broader, with more than a hint of devilment in his eyes.
"I don't care if it's dumb luck or not. It looks like I might break even today. So how much are you down, Mr. High Roller?"
"I'm not a high roller," he protested. "I'm just a horseplayer. And you don't want to know how much I've dropped today. It might give you the vapors."
"Since when have you known me to have vapors, Vanitzky? Hell, you've probably lost more this afternoon than I made this week. But then, I suppose you can afford it. You're the big corporate robber baron with money to throw around. Excuse me while I go place my humble but honest bet."
"I'll go with you." He unfolded himself from his chair. We headed back inside the clubhouse to place our bets.