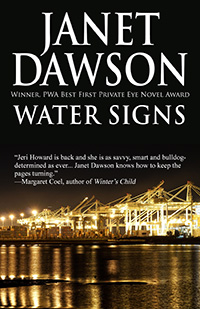 Oakland, California, is a city shaped by water. The waterfront, home to the ship and rail yards, is also ripe for development. There's lots of money to be made, so greed and crime inevitably follow. PI Jeri Howard looks into the murder of a former coworker who was a security guard at a construction site on the Embarcadero. It was a surprise when Cal Brady's body washed up on the Estuary shoreline. But Jeri is certain Cal's death was no accident, and she's determined to find out who killed him, and why.
"Wherever you go with private eye Jeri Howard you find intrigue, insights, and a haunting look at Oakland's past clashing with its future. What I love about Janet Dawson's mysteries is the deep connection to old California and the battle to save it, wrapped inside an enthralling mystery that will stay with you for a long time."
—Lise McClendon, author of Blackbird Fly
"Jeri Howard, PI is back and she is as savvy, smart and bulldog-determined as ever. I loved following her through the streets and waterfronts of Oakland and cheering her on as she brings to heel some very contemporary criminals. Janet Dawson knows how to keep the pages turning while snapping together all the pieces in this intricate puzzle."
—Margaret Coel, author of Winter's Child
Excerpt:
Chapter One
It was a season for funerals.
I don't like funerals. They make me sad.
I'd been to three of them in the past six weeks.
Uncle Dom was the first. He was my great-uncle, on my mother's side of the family. Dominic Ravella was a salty old fisherman who spent his whole life in Monterey, fishing the waters of the beautiful bay and the restless Pacific Ocean. After he retired, he spent his days playing bocce at the courts near the old Customs House. He was well into his nineties when age and a life well lived caught up with him in late in September.
The funeral was at St. Angela Merici Catholic Church on Lighthouse Avenue in Pacific Grove. The church was crowded, standing room only. A lot of those people were related to Uncle Dom, by blood or marriage. After the funeral, we went back to the house he'd shared with Aunt Teresa, who had been his high school sweetheart. People filled the house and the backyard. We ate, drank wine, and told stories as the sun descended, turning Monterey Bay into shimmering gold.
Norm Gerrity was the second. Norm was a fellow private investigator who'd started his working life as a cop in Boston, putting in thirty years on the force. He had moved to San Jose after his wife died, to be closer to his daughter and her family. Wrangling grandkids only went so far, though. "Once a cop, always a cop," he told me in that Boston accent. So he had obtained his California PI's license and worked out of his home.
Norm and I had connected during a case several years earlier and friendship grew out of that. I knew I could count on Norm and his insight. I also knew he was getting on in years. At some point he'd mentioned that his daughter had surprised him with a seventy-fifth birthday party. In early October, I thought about him, realizing I hadn't heard from him in a while. I called and got his voice mail. I left a message, hoping he'd check in with me. The next day, his daughter returned my call, telling me Norm had just died, due to a bout with pneumonia. She told me when and where the services would be held. I was there to pay my respects.
The third funeral, which took place in the second week of October, was the hardest of all.
Errol Seville was my mentor. He was the private investigator who'd zeroed in on me when I was working at a law firm in Oakland. He thought I'd make a good operative, so he'd brought me into his own agency. I worked for Errol for several years after I'd obtained my own PI's license. He was a superb investigator, an excellent teacher, a man with a mordant sense of humor.
Then Errol had a heart attack, his second. He closed his agency and retired. He and his wife Minna went to Carmel, where they had a house. I visited him when I could. He was enjoying his retirement. The last time I saw him, he had just celebrated his eighty-third birthday. Errol being Errol, he joked about the odds of making it to ninety.
With his ticker, the odds were against him. The third heart attack was fatal. And once again I went to a funeral.
As October moved inexorably toward November, I wasn't in the mood to hear that anyone else I knew was dead.
That's when Madison Brady showed up in my Oakland office.
Best laid plans, right?
Chapter Two
Madison Brady had the same intense blue eyes as her father, piercing me now with her  gaze as she leaned forward and put her hands on my desk.
I was surprised to learn that Calvin Brady had a daughter in her twenties, and even more surprised when she showed up in my office on Tuesday morning. Cal was an acquaintance, a former colleague, back in the day when I worked for Errol.
Cal had told his daughter something different.
"He said you were a friend." Madison tugged at the collar of her shirt, a black-and-red checked flannel worn over a pair of tight black jeans. "That's why I'm here. I don't know who else to turn to. The cops don't seem to be interested in the truth. Dad was murdered. I just know it. I want you to find out who killed him."
I was still processing the news that Cal had died. Truth be told, I didn't know Cal had a daughter, or that he was, or had been, married. We had worked together for less than a year. As coworkers, we'd kept our private lives separate from our work lives.
Saying Cal Brady and I were friends was a stretch.
I didn't correct Madison's assumption. Instead I leaned back in my office chair. "I didn't know Cal was dead. I saw him last week, at Errol Seville's memorial service in Carmel. Tell me what happened. And why the police aren't interested."
She frowned and fingered one of the gold hoops she wore in her earlobes. "Dad's body was found in the Estuary on Sunday morning. People are saying Dad was drinking on the job and he must have fallen into the water and drowned. That's total nonsense. But I'm afraid the police might believe it." She stopped and took a deep breath, then let it out with a frustrated sigh. "It can't be true. Dad wasn't drinking anymore. He was sober. He hadn't had a drink in over three years. Believe me when I say that."
I didn't say anything. I considered what she was telling me now, and what Cal had told me the week before. I spoke with him after the memorial service, when those of us who had attended gathered at the Sunset Center in Carmel, raising glasses and sharing anecdotes about Errol. I was drinking Chardonnay. Cal sipped from a bottle of sparkling water. He made a point of telling me he was sober now. That was a good thing. Because Cal's alcoholism was the reason he had been fired from the Seville Agency.