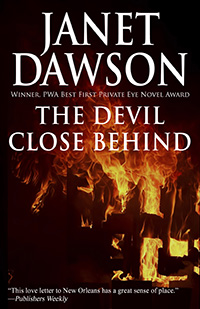 Jeri Howard is on vacation in New Orleans when a friend asks a favor: her sister Laurette has disappeared with a boyfriend, and Jeri's trip turns into a case. Slade, a mercurial musician, tends to strike out when thwarted, sometimes leading to deadly consequences. Jeri's investigation takes her from French Quarter clubs to workaday NOLA, then back to California, into jeopardy―and an explosive conclusion.
"This love letter to New Orleans has a great sense of place."
—Publishers Weekly
"This story of intrigue is an engrossing tale that will delight mystery readers who like atmospheric stories spiced with personal involvement and psychological twists."
—Midwest Book Review
"A ripping and gripping novel of mystery and suspense from
beginning to end, The Devil Close Behind showcases author Janet
Dawson's skill set as a writer in general, and master of the genre in
particular."
—Wisconsin Book Watch
"Another winner… If you are planning a trip to New Orleans, The Devil Close Behind by Janet Dawson is a must-read for you. If you are not already planning a trip, you will want to after reading this mystery."
—BookLoons
Here are some of Janet & Jeri's favorite places to visit & eat in NOLA:
Chalmette Battlefield
Barataria Preserve
Preservation Hall
The National WWII Museum
House of Dance & Feathers
Frenchmen Street
The Creole Creamery
Bayona
K-Paul's Louisiana Kitchen
Willie Mae's
Information on shotgun houses:
Shotgun Houses: An American Architectural Tradition With a Unique History
Shotgun House: The quintessential New Orleans house style
Other NOLA links:
Second Line Parades
Treme (TV series)
Excerpt:
It started with a phone call, as such things frequently do.
I was in my office on a quiet afternoon in April. The PI business had been slow. I'd finished up a couple of big cases and a handful of small ones. Now I was drinking my way through a fresh pot of coffee as I caught up on paperwork and filing.
When the phone rang, I peered over the rim of my coffee mug at the caller ID readout. A new client? Or an existing one?
No. My father was on the other end of the line. Now retired from teaching history he was as busy now as he ever had been. One of the activities that filled his time was birding. In fact, when we'd had lunch two days earlier, he had been excited about his upcoming birding trip to New Orleans with a friend, another retiree named Steve who lived near Dad in Castro Valley.
I set down my mug and reached for the phone. "Hi, Dad. What's up?"
"The birding trip." Dad sounded glum. "Steve can't go."
"You two have been planning this for ages. What happened?"
Dad sighed. "He was up on a ladder, cleaning out the gutters at his house. He's ten years older than I am. A man his age has no business climbing ladders."
"Aren't you the one who fell off a stool last year while changing a lightbulb?"
"Don't remind me," Dad said. "That was just a minor tumble. The only thing that got injured was my dignity, from falling on my butt. Steve's fall was major. He broke two ribs and his left ankle."
Since birding involves a lot of walking, that put a damper on things. "So, the trip is off?"
"It's still on," Dad said, his mood lightening. "You're going with me."
"Going with you?" I repeated, coffee mug arrested midway to my mouth.
"Sure. Why not? You said the other day business was slow. Take a week off and go traveling with your old man. I've already got the reservations for the hotel. And a local birder will take us to all the hot spots. Come on, Jeri. All you have to do is buy a plane ticket."
"Well . . ." I drew out the word, hesitating, thinking of all the reasons I couldn't get away. Or were they excuses? I was too busy. But I wasn't. I was between cases with nothing much to do but shuffle paper. I'd gotten a phone call an hour ago saying that the court case I was supposed to testify in had been settled, with no need to go to
trial.
Dan Westbrook, my sort-of fiancé, was out of town. I'd dropped him off at Oakland Airport the day before. Dan is a travel-and-recreation writer and his latest project is a book about hiking in New Mexico. His return was open-ended, he said. He would stay away as long as it took him to research the book, which involved moving from place to
place, hiking trails, taking photos and writing during the evening on his laptop. Dan suggested that I fly to New Mexico and join him at some point during the trip. But that would depend on my schedule. Besides, I knew how he was when he focused on a project. I didn't want to distract him.
As for the home front—my cats and my house on Chabot Road—I had a built-in caretaker. Madison Brady, the University of California grad student who rented my garage apartment, could feed the cats, take in the mail and keep an eye on things.
How long had it been since I'd had an actual vacation, something other than a quick weekend getaway? How long had it been since I'd visited New Orleans? In both cases, too long.
I made a decision. "Okay, I'll do it. Big Easy, here we come."
Dad and I had been in New Orleans for a week and we were having a great time. We went on birding excursions, toured historical sites, and spent hours in local museums. We also ate our way through several wonderful restaurants and listened to great music in the clubs.
Through the Internet and the local branch of the Audubon Society, Dad had connected with a local birder. Esther Landau, like Dad, was a retired professor. In Esther's case, she had taught English at Tulane University. She was also an avid birder. They exchanged emails and set up several outings. Our first began early in the morning, when Esther picked us up at our hotel and took us to Bayou Sauvage National Wildlife Refuge, in the northeastern part of the city. Bordered by Lake Pontchartrain on the northwest and Lake Borgne to the southeast, the refuge was one of her favorite places to bird.
The first wildlife we saw, however, wasn't avian. As we got out of the car and headed down a pier that extended over the water, a pair of eyes surfaced and a large scaly green beast swam toward us. It was the first alligator I'd seen in the wild, and I didn't like the looks of it any better than the ones I'd seen behind bars and barriers in zoos.
"There's a roseate spoonbill, Tim" Esther said, raising her binoculars.
Dad and I followed suit, checking out the gorgeous pink plumage of the bird. In short order, we saw other species we hadn't seen in our part of the country, such as the tricolored heron and the anhinga, which Esther told us was sometimes called the snakebird, because of its long neck. I was thrilled to see a cardinal perched in a tree, my first actual cardinal in the wild. Of course, I'd seen photos of them, but cardinals are rare in California.
We had lunch at a Vietnamese restaurant in New Orleans East, then headed back to the city. After a brief nap at our hotel, we strolled through the French Quarter and ate bowls of gumbo for dinner, finally queuing up to get into Preservation Hall, on St. Peter Street near raunchy, raucous Bourbon Street.
The following day was devoted to history. Dad and I spent hours at the impressive World War II Museum in downtown New Orleans. When we bought our tickets, we were each given a simulated dog tag with the name of a man or woman who had served in some capacity during the war. At various times as we toured the exhibits, we used our dog tags to activate terminals that gave us information on what the person whose name was on the tag had been doing at the time.
For me, our tour of the exhibits dedicated to the European and Pacific theaters of operation brought memories of Dad's mother, my Grandma Jerusha, for whom I'm named. When she was still alive, she often talked of her Rosie the Riveter days as a welder at the Kaiser shipyards in Richmond, California. By contrast, my grandfather, Ted
Howard, didn't talk much about his time in the Navy during the war. He'd served in the Pacific theater, fighting what the historians called the island war, as Allied forces drove relentlessly toward Japan. Grandpa had lost his older brother at Pearl Harbor, the young sailor entombed, with so many others, in the sunken wreckage of the
battleship Oklahoma. That was why Grandpa had joined the Navy early in 1942. Before leaving, he married Grandma. She had been a bit player in Hollywood, sharing a house with other aspiring actresses, taking small parts in movies at MGM and other studios. Putting that behind her, she traded lights, camera and action for coveralls and a welding torch.
Not talking about war experiences was common, I gathered. One of my Doyle uncles came ashore at Omaha Beach on D-Day and earned a raft of medals, but he would never talk about what he saw and did. At least Grandpa Howard shared a few stories before he died, prompted by Dad, the historian, and his younger sister Caro, a writer of historical
novels.
One morning, we rented a car and drove to the Whitney Plantation. It was located on the west bank of the Mississippi River in St. John the Baptist Parish, on the River Road, where several other plantations were located and open for tours. Dad particularly wanted to visit this one. The plantation, which once grew sugar, was now a museum focused on slavery and its brutal legacy. Various buildings, such as the small church and the living quarters, were filled with haunting statues of enslaved children. Some distance from the church was a series of granite walls, engraved with the names of those people who were enslaved on the plantation.
Our next outing with Esther was in New Orleans itself, at City Park, its acres covered with stately live oaks, followed by lunch at a restaurant Esther liked, Katie's in Mid-City. Then she drove us through the Garden District, Uptown, Audubon Park and the Tulane campus where she'd taught. We wound up at the Creole Creamery on
Prytania Street, not far from Esther's home. Since I'm always in the mood for ice cream, I was fine with this particular stop. The creamery had a wide selection, everything from buttermilk lemon pie to brown butter and on to chocolate, which had its own dedicated case filled with multiple varieties.
Today was our last day in New Orleans. Dad and I took a cruise on a paddlewheeler called the Creole Queen, heading downriver to Chalmette. Dad, ever the professor, informed me that what was known as the Battle of New Orleans, at the end of the War of 1812, was actually a series of clashes that took place from December 14, 1814 to January 18, 1815. The battle here at Chalmette took place on January 8, 1815.
"It's as important as some of the Revolutionary War battles," Dad told me as we left the steamboat and made our way along the levee to a staircase that led down to the battlefield, now covered with grass. "If the British had won . . ."
But they hadn't. Andrew Jackson and his troops, which included a contingent of pirates led by Jean Lafitte, fought off a much-larger British force intent on capturing New Orleans.
"It really makes a difference to walk the battlefield," Dad said as we reached the bottom of the stairs and set out across the expanse. "It helps me understand how the battle played out." He pointed. "The British sailed into Lake Borgne and then they marched overland. The Americans set up a line of defense here, along this ditch. It's called the Rodriguez Canal."
He set off, happily tramping along the canal, which ran perpendicular to the levee. I smiled as I quickened my pace to catch up with him. He was the same way when we went to Gettysburg, when my brother Brian and I were kids.
We walked for a while, then repaired to the visitors' center to check out the offerings in the gift shop. Dad bought a few books and then we headed back to the levee to catch the steamboat.
We walked from the waterfront back to the French Quarter, talking about which restaurants we liked best. Our splurge meal had been at Commander's Palace. I loved Bayona and Atchafalaya. Dad preferred Galatoire's and K-Paul's Louisiana Kitchen. As for musical venues, Preservation Hall was at the top of the list, though we'd also been to
several of the clubs along Frenchmen Street, as well as Tipitina's and the Maple Leaf.
Now, on this balmy Tuesday evening, we'd had an early dinner at K-Paul's on Chartres Street and headed for a second visit to Preservation Hall.
When we left the hall later that evening, we strolled along the banquette—that's New Orleans talk for sidewalk. The tune of "Joe Avery," one of my favorites, still bounced around my head. I'd purchased a CD at the Hall, and now I was tapping my hand against it, using it to keep time. Dad laughed as I sashayed down St. Peter Street. Nobody else gave me a second glance.
"I like traditional jazz," Dad said.
"So do I, but I also like Rebirth Blues Band and Kermit Ruffins." We'd seen both during the week we'd been in New Orleans.
My phone rang. I pulled it from my pocket and looked at the screen. The call was from Davina Roka, a friend at home who was a New Orleans native.
Back in the day, Davina and I had both worked for Errol Seville, the private investigator who'd helmed the Seville Agency in Oakland for many years. I considered Errol my mentor. He'd taught me everything I know. He'd died last fall and I felt his loss keenly. Davina's path and mine had diverged after Errol closed the agency and retired. I had opened my own shop, continuing as a private investigator.
Davina, who had an undergraduate degree in Planning and Urban Studies, had gone off to Europe for a few months, and when she returned, she went to work for a nonprofit that was working to build affordable housing. At one point she considered getting a master's degree in City Planning at UC Berkeley's College of Environmental Design. Then she
veered off in a different direction, heading up the hill to the nearby School of Law, where she was in her third and final year, focusing on social justice and public interest law.
Before getting on the plane to New Orleans, I'd consulted with Davina about which restaurants, clubs and museums to visit while Dad and I were in NOLA. Perhaps she was checking in with me to see how the trip was going, or whether I was home yet.
I answered the call. "Hi, Davina."
"Jeri, are you still in New Orleans?"
Something was wrong.