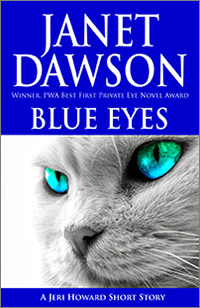 Short stories, we've got short stories! Now available for Kindle, twelve of Janet's short stories:
"Blue Eyes": The late Mrs. Littlejohn left a large sum of money for the care and feeding of her cat. But something about that will is fishy, as Jeri Howard discovers. Buy it for Kindle
"By the Book": Accident? Or suicide? That's the question Navy Lieutenant Dinah Gray must answer when a sailor at her Navy command drives a car into San Francisco Bay. Dinah discovers a lot of people would rather she didn't make waves. Despite the pressure, the young officer must go where the evidence, and her conscience, lead her. Buy it for Kindle
"Candles on the Corner": Twelve-year-old Emily Gebhardt is dead—struck down by a hit-and-run driver while walking home from school. The makeshift shrine of candles and flowers on the corner is a daily reminder of her parents' pain and loss. It's also a starting point for investigation as PI Jeri Howard searches for information to bring the perpetrator to justice. Justice – that's what Emily's parents want. Or is it vengeance? Buy it for Kindle
"Invisible Time": Greta and Hank are orphaned and homeless, scrabbling for survival on the cold, rainy streets of San Francisco. In this noir take on Hansel and Gretel, the little girl struggles to keep herself and her brother from falling through the cracks in this scary urban landscape, where homeless adults help and also prey on lost children. Buy it for Kindle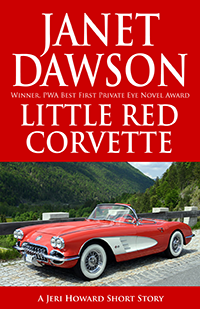 "Little Red Corvette": Why was the vintage Corvette abandoned at a repair shop? Jeri Howard looks into the car's provenance, and finds murder. Buy it for Kindle
"Mrs. Lincoln's Dilemma": Mary Todd Lincoln, wife of the sixteenth president, is the First Lady of a nation embroiled in the Civil War. She's also a savvy political wife in wartime Washington. In this story, the First Lady uses her powers of observation and the help of two White House employees to sort out crimes—including murder—and bring the perpetrators to justice. Buy it for Kindle
"Pack Rat": A pack rat—of the human variety—lives in the rundown house, surrounded by the junk he hoards. As the officers discover, there's more to this short story than the rats at the window and the piles of old newspaper inside. What's going on is a crime. Buy it for Kindle
"Scam and Eggs": A fabulous jeweled egg made by Fabergé for the Russian imperial family disappears during an art gallery opening. Does the gallery owner have something to do with the crime? He's had thefts from his other galleries, a pattern that retired private investigator Errol Seville believes is part of a scam to defraud the insurance company. The scam turns bloody when murder enters the picture. Buy it for Kindle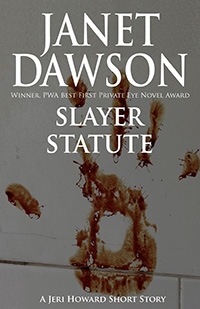 "Slayer Statute": Who gets the insurance money? That's the tangled case Jeri Howard must unravel when a husband and wife die in what looks like a murder-suicide. Buy it for Kindle
"Voice Mail": Winner of the Macavity Award for Best Short Story. The way we communicate now—by e-mail, text messages, voice mail—all detached and at a distance, without the immediate feedback of a face-to-face conversation, or even the voice-to-voice exchange of a phone call. But sometimes there are reasons for that distance, as one woman discovers when she uses voice mail to communicate her hostility to her soon-to-be ex-husband. It seems he has an agenda of his own. Buy it for Kindle
"What the Cat Dragged In": Hattie Ballew is a gold miner in California's Mother Lode. She works a claim with her brothers, and enjoys the company of her cat Little Bit, who pilfers things from the cabin and the surrounding woods. As Hattie finds out, the lust for gold leads to violence—and murder. And Little Bit may drag in a clue. Buy it for Kindle
"Witchcraft": Backing the wrong horse can be murder. And jockey Deakin Kelley is about to be taken for the ride of his life. Deakin's bewitched. He's fallen under the spell of a beautiful woman, one with a sleek figure and a sly, come-hither smile. But witchcraft—and obsessive love—are dangerous. Buy it for Kindle
Casebook
Also available is Casebook. Together in one volume—four short stories featuring Jeri Howard: "Slayer Statute," "Blue Eyes," "Candles on the Corner" and "Little Red Corvette." Buy it for Kindle.
Here is an excerpt from "Candles on the Corner," which was originally featured in the November 2008 issue of Ellery Queen's Mystery Magazine:
Twelve candles, one for each year of Emily Gebhardt's life, stood in a row on the grassy strip between sidewalk and curb. Each evening, Emily's parents lit fresh candles. The flames flickered like beacons in the darkness, burning out long before morning.
At each end of the row were plastic vases filled with fresh flowers—roses, tulips, iris, daffodils—in Emily's favorite colors, pink and yellow. A pink umbrella, its handle lengthened by a broomstick stuck into the ground, sheltered a small easel from the spring rain. The easel held a color photograph of Emily and a newspaper clipping.
The shrine—that's what it was, really—had been on the corner where I stood for the past month. I stepped up to the easel and examined Emily's picture. I saw wide blue eyes, a cheerful smile on a round face, and brown curls tied back with pink and yellow ribbons. Emily had been a pretty girl poised on the verge of adolescence, just twelve years old. She'd never see thirteen.
I turned from the shrine and looked out at Grand Street. Emily's parents had spray-painted slogans on the pavement in the middle of the intersection. They'd done so without the blessing of the Alameda authorities, who'd nevertheless let the words stay there, to be gradually worn away by rain and the tires of passing vehicles. I read the messages, painted in eye-catching Day-Glo pink and yellow: "Slow Down," "Drive 25," "Children Crossing," and "Emily Died Here."
Emily's parents said most people in the neighborhood seemed protective of their makeshift memorial. But not everyone respected the shrine. Several times the Gebhardts had arrived with fresh flowers and candles to discover all the items missing. Not vandalized, just gone. Each time, they simply rebuilt the memorial to their daughter.
I'd read the police report and talked with the investigating officer. On a Wednesday afternoon in April, Emily and two friends had just been released from the confines of the nearby middle school. They were crossing Grand Street at this corner when Emily dropped something. She went back to retrieve it.
The witnesses all agreed on one thing—the vehicle that raced down Grand Street and smashed into Emily was going much too fast for a residential area, much faster than the 25 miles per hour limit posted all over Alameda. The impact tossed the girl into the air. She died a short time later.
Now there were candles on the corner.
The vehicle didn't stop after hitting Emily. The driver sped down Grand Street and hung a left on Otis Drive, narrowly missing other pedestrians and cars, weaving in and out of traffic as it raced past the nearby shopping center. At Park Street the vehicle ran a red light and left squealing brakes in its wake. A few moments later a vehicle traveling at a high rate of speed crossed the drawbridge at the southern end of the island that is Alameda. Once it reached Doolittle Drive, the vehicle vanished. Perhaps the driver had turned right on Island Drive, or continued south, toward Oakland International Airport, or detoured onto Hegenberger Road or 98th Avenue to cut over to the freeway.
When it came to a description, the witnesses diverged widely, as witnesses do. People saw a flash of silver, gold, blue, green, brown, red. No one was sure whether the vehicle was big or small, a car or an SUV, what make or model. No one offered a description of the driver's gender or appearance. No one could recall license plate numbers or letters, or whether they were California plates. No one knew where to find the vehicle or the driver who'd been at the wheel.
Emily Gebhardt's parents grieved, full of sadness, anger and frustration, dissatisfied with the slow progress of the police investigation. They wanted answers. They wanted someone to blame, someone to pay. So they came to me, Jeri Howard, private investigator working out of Oakland.  I wasn't sure I could give the Gebhardts what they wanted. But in the face of that much raw pain, I had to try.
I took a small digital camera from my purse and shot photographs of the intersection, from different angles, then pictures of the shrine. As I lowered the camera, a woman came out the front door of the big two-story Victorian house on the corner. She stalked across the lawn toward me, a decidedly belligerent look on her face.
"Are you one of those people who's been leaving this stuff here?" she demanded. I guessed she meant the easel, the flowers, the candles on the corner.
"Why? Are you one of those people who's been removing this stuff?"
She looked nonplussed. I looked her over. She was in her mid-forties, blond hair coiffed into a head-hugging style, lots of makeup and flinty hazel eyes. She rethought her opening and dredged up a smile that curved her lips only slightly. "Look, I own this house. I'm tired of those people leaving this stuff in my yard."
I glanced at Emily's shrine. "It's here for a reason."
"I know why it's here." She sounded exasperated and glanced dismissively at the shrine. "But it's been a month."
"A month is a short time when you've lost a child." That's the loss many people never get over.
The woman's mouth tightened. "There's such a thing as excessive grief."
Okay, I was ready to declare her winner of the insensitivity sweepstakes. I guess she figured now that their only child's funeral was over, the Gebhardts should just get a grip and go on with their lives.
"Did you remove the items?"
"I just put my house on the market," she snapped. "The real estate agent's showing the place to prospective buyers. This stuff looks tacky and garish. Do you see my problem?"
"You certainly have one. You didn't answer my question. Did you remove the items?"
She glared at me. "Who are you? Why do you want to know?"
I handed her one of my business cards. She held it gingerly between thumb and forefinger as though she was afraid she might catch something.
"A private detective? Surely those people didn't hire you to find out who took the stuff. For God's sake, those people need to get a life."
I bit back the words that sizzled on my tongue, instead asking the question again. "Did you remove the items?"
She backed away from me, sputtering angrily. "It's my property. You tell those people I want that stuff gone, permanently. I've complained to the police and they won't do anything. Next I'll be talking to my lawyer." She turned and stalked back to her house, slamming the front door for good measure. Talk about excessive. Her reaction to the shrine was just that. Why was she so discomfited by the memorial? Who was she?