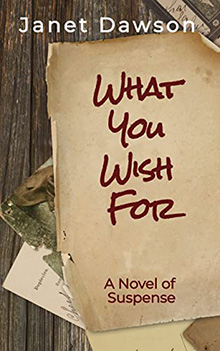 How well do you know your friends?
Lindsey Page is sure she knows them quite well. After all, she's known Annabel, Claire and Gretchen for decades. They shared a house back in the 1970s, when they were students at the University of California.
But things happened that spring of 1974, when Patty Hearst was kidnapped just a block from their Berkeley house.
Secrets long hidden are unraveling, and Lindsey will discover that she doesn't know her friends as well as she thought.
"Personally I wish for a crackling good mystery tale—and Janet Dawson delivers, as she always does. More than a whodunit, this is a fascinating novel about friendship, loyalty, love, recent international history, and the often-strained relationship between mothers and daughters. There are plot points here to which everyone can relate."
—Les Roberts, author of The Cleveland Creep and The Strange Death of Father Candy
"What You Wish For is a powerful story full of twists and turns that connect the past and present with surprise and perception. Janet Dawson's strong and believable characters both entertain and teach us about life, loyalty and the true meaning of friendship. Her strong prose and insightful plot will please any reader who loves a good tale. Another wonderful novel from a master storyteller."
—Earlene Fowler, author of The Saddlemaker's Wife and Spider Web
"In a series of flashbacks and returns to the present, Dawson weaves a tale of love, friendship, betrayal and loss. She leads you on one woman's search for the truth, and the discovery that the truth as seen through another's eyes is no less true. With vivid descriptions of San Francisco, Berkeley and Alameda from the early 1970s to the current day, and an unflinching look at the grinding poverty, torture and execution experienced by Salvadorian civilians during that country's civil war, What You Wish For is a story that grips you until the very last page."
—Carrie Beavers, Alameda Sun
"This is a novel you want to savor as much for the context of the story, as for the story itself… The story provides a powerful contrast between the affluence of San Francisco and the jungles of El Salvador, from which the conflict emerges."
—Clay Stafford, Killer Nashville's Book of the Day
"This thoughtful suspense novel from Dawson (Bit Player and nine other titles in her Jeri Howard PI series) concerns families, secrets, and the human cost of coffee from El Salvador… Dawson weaves together multiple time lines and character viewpoints… as she conveys the message that 'the price of coffee shouldn't include death.'"
—Publishers Weekly
Excerpt:
They were good friends, sisters that Lindsey Page had acquired through chance rather than birth. She knew these women well—or so she thought.
April sun poured light from a blue sky as Lindsey walked through San Francisco's Financial District. The scent of flowers from a nearby stand vied with the pungent stench of urine from the doorway of a shuttered business. On her first visit in 1967, the Summer of Love, the city had looked magical to Lindsey, full of wonder and promise. It hadn't looked that way for a long time. The city was dirtier, the streets meaner.
I am getting old and cynical, Lindsey thought.
She walked up Montgomery Street, past a homeless man muttering to himself, his hair and beard matted, clothes ragged and filthy. Other people on the sidewalk ignored him. They muttered too, into cell phones or headsets, or pressed tiny keys, connected to their devices rather than the people around them.
Gretchen Segal was already at the café, sipping white wine. She looked at her watch. "Claire's late, as usual."
"Me, too. I lost track of time." Lindsey ordered iced tea and glanced at the menu.
A few minutes later, Claire Megarris arrived, carrying a shopping bag sporting the red-and-blue logo of Dunlin Coffee Roasteries. She sat down next to Gretchen and pulled out two bags. "I brought goodies. Sumatra for Gretchen, Costa Rica for Lindsey."
Lindsey held the bag to her face and breathed in the aroma. "Thanks. We coffee junkies appreciate having you as a source."
"As we say over at the Dunlin Building, life's too short to drink bad coffee." Claire glanced at the menu. "I'll have iced tea and the salad with smoked trout. No wine for me. I need a clear head for an afternoon meeting."
"Linguine carbonara," Gretchen said. "Never met a plate of pasta I didn't like."
"Crab cakes, blue cheese dressing on the salad." Lindsey handed the menu to the server. "Lunch with just the three of us feels strange." After all, Annabel had originally brought them together. But today she would not be joining them.
Claire sighed. "Yes, it does. She could be in rehab for months. She tries to talk. It's hard to understand her, with that aphasia. Her left side is partially paralyzed. What if she has permanent disability?"
"Give it time," Lindsey said. "It's only been six weeks since the stroke. She could make a full recovery. With all the therapy, I think she's better."
Gretchen looked stricken. "If only we hadn't played that last set of tennis . . ."
"It's not your fault," Lindsey said. "It didn't happen because you and Annabel were playing tennis. She could have had that stroke any time. You might as well hold yourself responsible for the last earthquake."
* * *
Annabel and Gretchen had a tennis date that Saturday, at the Claremont Hotel in Berkeley. Lindsey and Claire were joining them for lunch and an afternoon luxuriating at the hotel spa, treating themselves to massages and facials.
The hotel, a white confection surrounded by manicured grounds and tennis courts, rose at the base of the Berkeley hills, where a major earthquake fault lay beneath wooded slopes and canyons. Like a snake slithering from its den to bite the unwary, the fault sometimes made its presence felt with a shake that rattled the animate and knocked the inanimate from shelves. Then the ground would still. The damage would be catalogued, the broken glass swept up and discarded. Until next time. There was always a next time, one that might bring a fatal bite.
At the courts, Lindsey sat on a bench and watched Annabel and Gretchen play tennis. They finished the set and walked to the sideline where they'd left their gear. Both reached for their water bottles. Then Gretchen waved. "Claire! Over here."
"I'm ready for lunch and an afternoon of pampering," Claire said as she joined them. "First we have to get these two aging Wimbledon rejects off the court. Come on, let's eat."
"The reservation's at one," Annabel said.
Claire grimaced in mock frustration. "You told me noon."
"You're always late, so I compensate." Annabel tucked her bottle into her tennis bag.
"Now she's a poet," Claire shot back.
"We'll play one more set." Annabel stretched, working the kinks out of her back and shoulders. She walked back to the service line, tossed the ball into the air and swung the racquet high above her head. But she never made her downswing. She froze. The ball dropped and rolled toward the net. Her racquet clattered onto the court. Annabel pressed both hands to her temples, face crumpling with pain. She took a step, then collapsed and fell like a broken doll, blue eyes wide with confusion, saliva dribbling from her mouth as she tried to speak. Claire shouted into her cell phone. Sirens wailed, lights flashed, paramedics ran toward the tennis courts.
* * *
"You haven't played tennis since then, have you?" Lindsey asked now.
Gretchen shook her head. "No. I can't even bear the sight of my tennis gear. Doug hid it."
"If I knew where your tennis gear was, I'd haul it out and plop it down in front of you. I might even volley a few balls with you."
"Lindsey on a tennis court?" Gretchen smiled. "Now that's scary."
Lindsey squeezed Gretchen's hand. "Annabel will recover. You once told me she had a will of iron. Now Dr. Page prescribes a good meal." She glanced at Claire. "How are Hal and the kids?" Annabel and Hal had two daughters, Tess and Sharon, and a son, Adam.
"Being upbeat and positive," Claire said. "Hal goes to the rehab place every day. He takes lunch for both of them and talks to her. I know he's worried. At the office I'm shouldering as much of the burden as I can. But he's the CEO. We have a board meeting later this month, with important decisions to make. Some people are using Hal's preoccupation with personal matters to put forth their own agendas. The corporate world is so damned cutthroat."
"Yeah, and you love it," Gretchen said.
"It shows?" Claire laughed. "Oh, you know me too well."
Lindsey smiled. "The only difference between academic politics and office politics is that the corporate types are more plain-spoken than professors. Maybe less stodgy and hidebound."
"Hidebound? Stodgy? It's worse than that," Claire said. "Max Brinker is a sexist old dinosaur. He drives me crazy."
"You have to take Max as he is," Lindsey said.
"I don't want him, period." Claire scowled. "I'm tired of hearing how things were done in the good old days when Uncle George ran the company. I wish Max would retire. He's way past his sell-by date. But he just keeps hanging on. As if I didn't have enough on my plate, my assistant's pregnant, going on maternity leave. I don't know what I'm going to do without her." The server brought their orders. Claire picked up her fork. "How goes it with you?"
Lindsey took a bite of her crab cakes. "I'm doing interviews for my book. Next week I'm going to the Oregon Shakespeare Festival. I'm glad I retired, so I can do what I want to do."
Claire shuddered. "Retirement would bore me silly."
"You'd be surprised what crops up to fill the time." Gretchen twirled linguine on her fork. "I'm gardening, volunteering."
"Are you still working with that adoptive parents organization?" Lindsey asked.
Gretchen nodded. "This is my last term on the board, though. I want to keep my summer free to spend time with Doug and the kids. Nat graduates from high school this spring. Can you believe that?"
"Where did the time go?" Claire asked. "That sweet little toddler, all grown up."
"He's grown, all right," Gretchen said. "He was so small when we adopted him. Now he's almost as tall as his dad. He goes off to college in the fall. I'll probably be glad to have him out of the house." The misty look in Gretchen's eyes belied her words. "We'll still have Amy at home. She'll be thirteen in September. Another teenager."
Claire turned to Lindsey. "How's Nina? Does she like living in Texas?"
"I haven't heard from her lately." Lindsey sipped iced tea. She hadn't communicated with her daughter in months. Daughters—a dangerous subject.
Fork in hand, Claire reached across the table and excised a bite from one of Lindsey's crab cakes. Taking people's food was an old habit of Claire's. Lindsey had gotten used to it over the years.
They all shared a decadent chocolate dessert, then paid for their lunches. Claire headed back to work, Lindsey and Gretchen to BART. As they walked home from the downtown Berkeley station, they passed the empty shell of the UC Theatre on University Avenue. A scrap of song went through Lindsey's head, Fred Astaire singing of danger ahead, as he and Ginger Rogers twirled and dipped through the last frames of Follow the Fleet. The old movie house's marquee lights were out, the box office was boarded up, and the display cases that once held movie posters were empty. Fred and Ginger no longer danced here.
"It seems strange not to see the names of the latest double feature," Lindsey said. "Old movies. Film noir and screwball comedies. Or musicals. I could always count on Fred and Ginger to cheer me up."
"The Rocky Horror Picture Show on Friday nights." Gretchen grinned. "Yeah, I was sorry to see it go. But these days, with cable and DVDs, I'm not surprised. The last time Doug and I took the kids to a movie, dinner and tickets for four added up to an expensive evening."
"I remember when I could get into a movie for a buck and a quarter," Lindsey said, "back when I was in high school. Watching a DVD at home isn't the same as seeing a movie in the theater. Sitting in the dark gazing up at the big screen, with all those people. You came here on your first date with Doug."
"You remember?" Gretchen laughed. "He spilled buttered popcorn in my lap. I never did get the stain out."
"I seem to be on the nostalgia train lately," Lindsey said. "Thinking about the past, all of us living together in that house. But we're not in college anymore. We're middle-aged."
"Don't remind me," Gretchen said. "You never talk about Nina. That must have been some argument."
Lindsey sighed. "It was. Same damn thing. Just different words."
They walked north on Milvia Street. The neighborhood segued from commercial to residential. Houses mostly, though there were plenty of apartment buildings and houses divided into flats. They said good-bye in front of the Segals' house. Lindsey lived a block away. She'd returned to Berkeley last year after retiring from California Polytechnic University in San Luis Obispo, moving into this house where she'd lived while finishing grad school. Now she'd inherited the house from Aunt Emma.
The one-story brown-shingled bungalow was larger than it looked, added onto several times since it was built in 1910. It sat on a narrow corner lot at Milvia and Vine Streets, its yard full of plants and flowers—dark green rosemary, pale green succulents, tall stalks of red and yellow alstroemeria, fringed white Shasta daisies, and orange California poppies. A dark red clematis vine climbed a trellis and rosebushes lined the fence. Lindsey pushed through the gate and stopped to inhale the fragrance of a lush coral rose, its extravagant bloom the size of a plate.
A woman sat on the wide porch railing. Short dark hair framed her face and her left eyebrow was pierced with a gold stud. Multiple earrings decorated both lobes and her right forearm had a pink rose tattoo. Dark circles under her blue eyes, drawn by fatigue, looked like bruises.
Daughters—the dangerous subject had come home.